[Participated] International Competition for Cheongju New Cityhall
Competition Aug. 28. 2020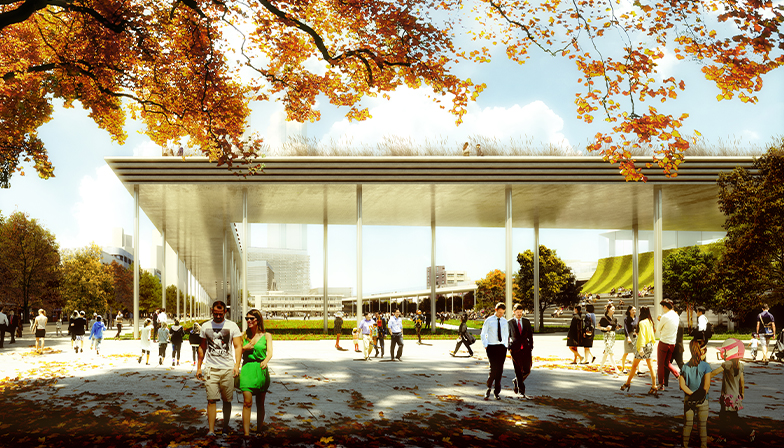 NEW CITY FIELD: A RESPONSIVE-SCAPE
FROM 'CITY HALL' TO 'CITY FIELD'
Heungdeoksa left behind a legacy – ancestors' daily lives based on the foundation of Heungdeoksa had created 'Jikji(the World's oldest movable metal type),' which formed cultural heritage and pride. People's intrinsic activities in a certain space shape the space as a unique space. When people empathize with the inherent value and meaning of a space, the space becomes socio-culturally meaningful space, representing its spatial identity over time.
Due to the recent re-organization of administrative divisions in Cheongju, and varied urban structures as a consequence of urban sprawls caused the spatial identity of Cheongju to be ambiguous. As French anthropologist, Marc Augé's concept, the existing Cheongju as an "Anthropological Place" becomes an instantaneous "Non-Place," causing our sense of place to be lost.
What should the new city hall of Cheongju look like as a platform of the city within this rapidly changing society? Beyond its original administrative role, the new city hall should be the hub for citizens' daily lives. In addition, the new city hall should be the place for the historic & future heritage by accepting and transcending changes within the society over time. The city hall is the public place to represent Genius Loci of Cheongju. Therefore, we define the new "City Hall" of Cheongju, as new "City Field."
ENGRAVING A LEGACY
As a bed of press to be emptied in the initial typesetting of ''Jikji,' our suggestion for the new city hall begins with creating urban void. In the same way that those marginal spaces in a bed operate with movable types in Jikji, those urban void become different interior and exterior spaces for numerous activities, creating interactive spaces for the city hall and citizens. As the combination of protrusion and depression of a bed of press become a print, the architectural settings of Cheongju city hall and spatial protrusion and depression engrave substantial lights and shadows. It is a place for future heritage of Cheongju, encompassing the diversity of citizens' lives.
RESPONSIVE URBAN SPACE, RESPONSIVE CITY HALL
Those city hall buildings become a background to respond citizens' needs; the site becomes a responsive space to encourage people's activities. The new Cheongju city hall is the place to form social, collective as well as individual's memories, representing the identity of Cheongju. Jikji, the cutting-edge technology as well as cultural innovation of that time was re-created as the semiconductor technology and the culture industry in today's Cheongju. The heritage of Heungdeoksa which gave birth to Jikji, is now re-established and sustained by "New City-Field: Responsive-Scape" that we newly defined. Our new "City Field" is where the Genius Loci of Cheongju can evolve into spatial legacy in the future.
Use : Office(Public Office)
Location : Cheongju, Korea
Collaborator : ​

H Architecture

PC,
SHINSUNG Architecture,
ING Group
Project Team : Minjin Park, Sangbeom Kim, Yanghoi Koo, Giryoung Jung, Choongmo Son, Sujin Choi, Jangho Park, Wonsang Oh, Sungjoong Choi, Mikyoung Seo, Sangkook Lee, Namhoon Kim, Sangmin Lee, Jeehoon Lee, Haengsook Lee, Seongkyeom Kim, Seungjun Lee, Youngyong Kim, Sumi Hwang, Woohyun Ko, Yunha Hwang, Sujin Yeo, Seokjin Ji, Yeongpil Bak, Dongjun Park , Naeun Kim(HAEAHN) Changhak Choi, Dongil Kim, Seojoo Lee, Jake jaekyung Han, John Hanghyun Cho, Aprielle Jiyoung Jung, Olivia Jinhee Kim (H Architecture PC)